About American Antique Quilt Tops
Betsey has chosen antique quilts tops to offer you based on condition, quality, graphics, and color. Antique quilt tops are wonderful used as tablecloths, or folded in a display area. These quilt tops are perfect to be finished by you, by outline machine quilting or by hand.
Click here to view the Quilt Tops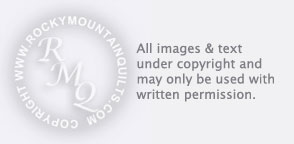 American Antique Quilt Tops
Rocky Mountain Quilts NEW hours:

OPEN YEAR ROUND!

WINTER Hours:
(Oct 1 - May 15)
Monday, Friday, Saturday 10-4
or by appointment

SUMMER Hours:
(May 16 - Sep 30)
Mon, Wed, Fri, Sat, Sun 10-4
or by appointment

Payment Methods:
Rocky Mountain Quilts gladly accepts cash, checks, Visa, Master Card and American Express. Bank wire transfers are an easy method of payment for both domestic and international sales. If you are traveling, we will be happy to ship your purchases via FedEx at your convenience.
Contact Us
Telephone - for orders or questions -
1-207-363-6800
Email - betsey@rockymountainquilts.com
Shipping FedEx address -
130 York Street
York, Maine 03909

-->