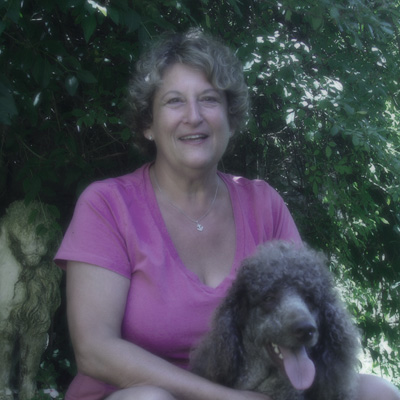 Betsey Telford-Goodwin
Antique Quilts Expert
Betsey learned the fundamentals of sewing at Beaver Country Day School as a child growing up in Chestnut Hill, a suburb of Boston. This experience, common to so many little girls from the early 1960's, would be the first of many steps on the path to creating Rocky Mountain Quilts. Betsey started her first career as a teacher, and spent her young adulthood busy as a mother. As her children grew, she began experimenting with home businesses in catering and preserved food products.
In 1987, Betsey relocated to Colorado where her love for both textiles and antiques merged into the founding of Rocky Mountain Quilts. While purchasing antique quilts from women throughout the region, Betsey took the time to listen and learn about quilt making and its importance in the daily lives of these families. Supplementing her interviews with extensive antique quilt research allowed Betsey to feel confident while opening a business as a dealer of antique quilts.
It wasn't long before Betsey realized the need for restoration of family heirloom quilts. However, Rocky Mountain Quilts would have to be a source for more than just quilt repair, it would have to be able to provide professional restoration using same date fabrics to preserve the integrity of the original quilt. Betsey scoured the country for wonderful antique fabrics available for purchase, hired expert hand sewers, and another important facet of the RMQ business was born. Today, Betsey owns one of the largest private collections of antique fabrics in the country, and is one of the foremost authorities on antique quilt restoration techniques.
By the early 1990's, Betsey had gained a global reputation for integrity and high professional standards. However, after ten years in Colorado, Betsey missed New England and especially missed the opportunity to see her children more often. Moving her company 2,000 miles presented many difficult logistical problems; it would mean leaving many valued employees and starting over in a totally new location. Thanks to Joyce and Pam's help in Colorado, the retail portion of RMQ was successfully transitioned to Maine, while the restoration business remained in Colorado for another nine years. In 2006, Betsey completed her company's transition to Maine with the transfer of the restoration business to newly constructed facilities at the RMQ shop.
Now, after nearly two decades of experience, Betsey's realm of expertise is shared by only a few in the antique textile world. She is a member of the prestigious Antiques Council of America, as well as the Maine Antiques Dealers Association, the New Hampshire Dealers Association, and the Society for the Preservation of New England Antiques. Betsey has been featured on the Discovery Channel, in Down East, Country Living, Architectural Digest, New England Antiques Journal, the Boston Globe, Nahon Vogue in Japan, and Quiltmania, among others. Plan a visit to Betsey's shop, and explore the wonderful collection of the highest quality antique quilts for sale.
Rocky Mountain Quilts
130 York Street
York, ME 03909

Shop Hours


Shop Open Year Round
Hours: Mon, Wed, Fri, Sat 10-4
Other times: Call for Appointment or take a chance and call from the driveway 207-363-6800.

Contact Us
Telephone -
for orders or questions -
1-207-363-6800
Email -
betsey@rmquilts.com
Shipping FedEx address -
130 York Street
York, Maine 03909